Hi friends! Long time no see, and apologies if you tried to stop by here earlier this month and found it in disarray … a hiccup with my WordPress renewal sent things off kilter. I'm still in the process of getting things back into shape! But I'm popping in today to share that I've started something a bit new, a monthly meander through my makes, called the Making Miscellany, over on Substack. I have perpetual hopes of making more time for this space, but I felt like I needed something a bit new and distinct … it's (as you'll see below) a monthly round up of the stuff I'm making and thinking about. In the short term, I'll republish the Miscellanies over here, but if you like them, perhaps you'd like to join my mailing list over on Substack? It's totally free and the monthly emails will land in your inbox the last Thursday of the month. And with that … on with the Miscellany!
---
Hello, hello! Thanks for being here and welcome to the inaugural … issue? … of fiber and sustenance's Making Miscellany. I'm so glad you're here!
The Making Miscellany is a (for now) once-a-month round up of my making life. I'll talk about what I'm making (mostly knitted or sewn, with food and maybe a few surprises sprinkled in), what I'd like to be making, what finished makes I'm enjoying … you get the idea! I'm sure some other tangential things that have caught my eye will be thrown in the mix.
This newsletter is born out of an exuberance for making that always exceeds the bounds of the time I have available, and my love of writing. For years, I've recorded some of my making adventures on my blog, fiber and sustenance. But I've found it harder and harder to make time for that space, and while I (always) have plans to revive it, I've also realized that blogs are no longer the primary place I go to read writing about making, and I have been itching to carve out something a bit new and distinct, less focused on the details of finished objects and more about sharing process, ideas and inspiration.
This is a newsletter written by a reluctant slow maker. I've always been rather slow to finish things, easily distracted by new ideas. Having two children over the past three years, I've become less easily distracted from my WIPs, but also much, much slower at completing them. In this season of my life, focused time can be hard to come by. It can be easy to feel like you're the only person slowly plodding along on the same projects (especially when there is, it seems, a new, inspiring pattern released every day), so I'm hoping fellow slow making travellers will see something of their own crafting in these newsletters and hopefully, enjoy a bit of daydream making with me.
Right I think that's enough preamble … on with the newsletter!
On the Needles
Like the person who gets really into an acclaimed television show three years after everyone else (I am also this person), I often only slowly (if ever … looking at you brioche knitting) get around to trying out Big Knitting Trends. Case in point, I have, just in the last few months, discovered the soft satisfaction that comes from adding a strand of mohair to everything. (Though, having typed that, I realize one of my oldest and most loved hats [from c. 2009 — that's a link to my Ravelry project page] was made with a strand of mohair …)
It started with a Burgos Vest … the fluffy fabric, large gauge and lack of sleeves made for such a seductively fast (even for me) make, that I immediately wanted to cast on something else with mohair. A dear friend had, amazingly, made my baby and toddler beautiful Love Note Sweaters recently, and though I'd made this iconic pattern once (without mohair), it's currently a bit too small for me, so I decided to cast on a new, fluffy version using Rosa Pomar Mondim + Rowan Kidsilk Haze.
My new Love Note wasn't the speedy make that the Burgos Vest was as I had to set it down to make Christmas gifts, but it has at last come off the needles and had a first wear last weekend. It is everything I'd hoped it be … soft, warm, fluff-tastic. But the sleeves have turned out a bit shorter than I had hoped. They had seemed to lengthen with blocking, so I thought they might be fine, but a day of wear has convinced me otherwise. I've got plenty of yarn, so need to just sit down and undo (or, more likely, snip off) the cast off. I find post-blocking alterations quite irritating to make, so I must set aside time soon to do them while I still have some of the project's momentum. I'm not sure if it will help or hurt that I actually have another (much smaller) recently finished project that needs more length adding … some Little Jelly Rolls for my four month old that came up a bit short.
My most recent cast on also falls firmly into the "late to the knitting party" category: a Sophie Shawl by Petite Knit (which I recently saw described by someone as the "Pumpkin Spice Latte" of the knitting world). I'm using a stunning skein of super soft merino given to me by a lovely friend on a visit to Australia just over four years ago. I've wanted a kerchief/scarf that is easy to wear while baby wearing (which rules out most of the shawls I typically wear under coats in the winter), and initially cast on a Sorgenfri Scarf. But Sophie Scarves and Shawls just kept popping up in my Instagram feed, and I also realized the kerchief pattern I'd chosen was only going to use about half of my precious skein … so I've just frogged and restarted. I'm knitting the smallest sized Sophie Shawl, using a sportweight yarn and smaller needles, so am aiming for something larger than the Sophie Scarf, but smaller than the smallest shawl. Even if I don't finish it in time for it's intended purpose, I think the simple pattern will be a lovely way to show off the fabulous color and make the most efficient use of this special gift skein.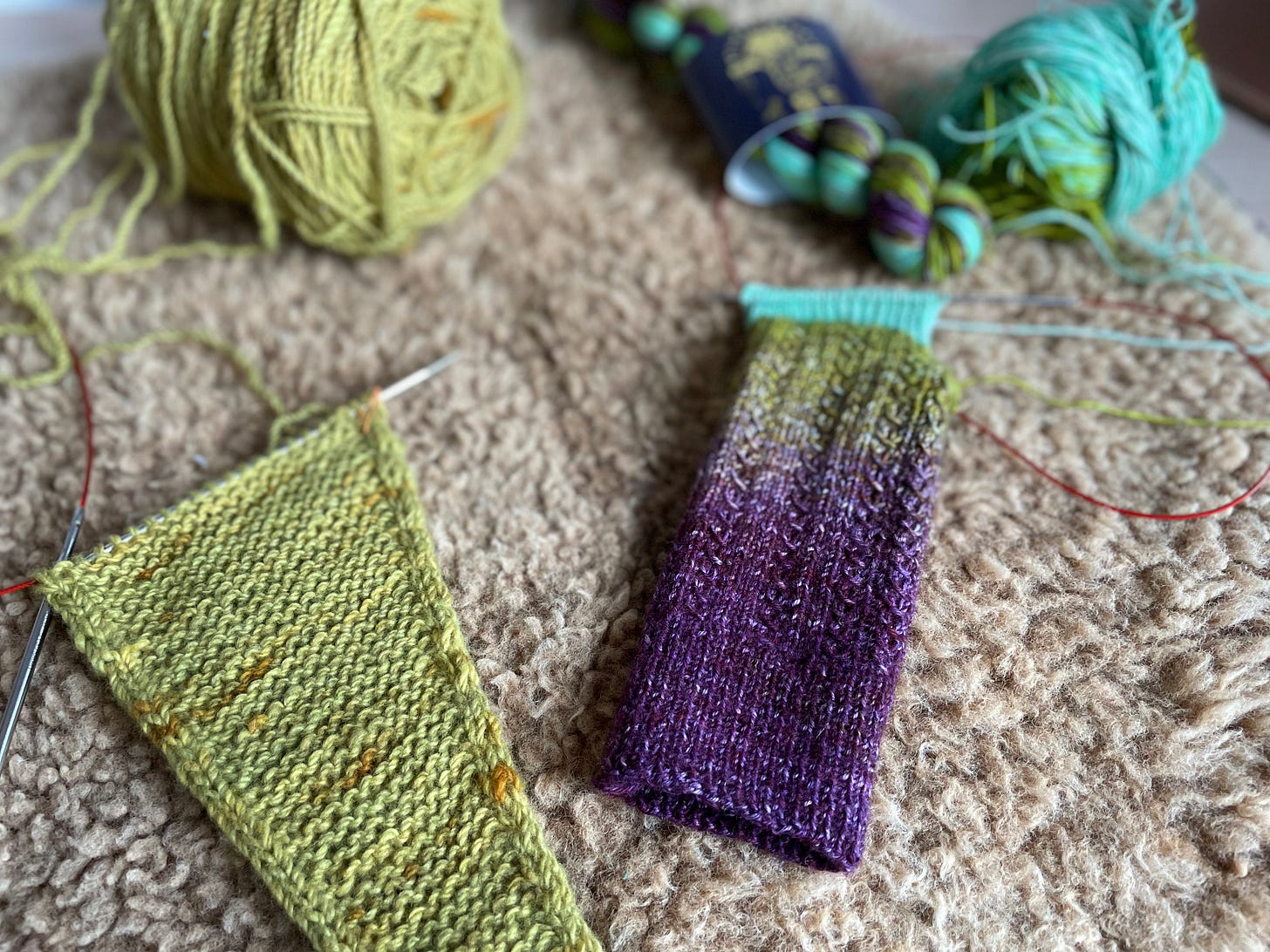 I'm currently alternating working on my Sophie Shawl(ette) with the first of a pair of Hibernal Socks (Ravelry link). I typically knit socks using the magic loop method, but decided to try out my forever favorite needle brand Chiagoo's 9" circular needle for these. I'm not sure a patterned sock pattern was the best trial pair for new needles — the slip stitching that's required is awkward with such a short needle — but while I'm still experiencing a little cramping from adjusting how I hold the needles, I am getting more accustomed to them … and enjoying not having to mess with adjusting my magic loop every half of a round.
On the Sewing Desk
I've barely sewn since my second daughter was born, and I'm really missing it! I cut a Jackson Tee out of soft navy and mauve striped jersey fabric at the beginning of November, and it has been patiently waiting ever since (hopefully the neck and arm curves haven't stretched out of shape .. I didn't stay stitch them as I never intended on leaving them so long). Given I spend most of my life in loose tees and comfy trousers, it would be really nice to make some time for this soon.
After loving finishing a very basic patchwork quilt for my oldest daughter for Christmas, I've also been itching to start a quilting project. I've bought my first jelly roll (for the uninitiated, like me, an irresistibly pleasing role of coordinating fabrics, cut into 2.5" strips and rolled into a cake) and am hoping to make a simple nine square block quilt, inspired by this one made by Susan B. Anderson. It's taken all my self control not to unfurl my roll's strips and start playing, but I am saving it as a post-Jackson-sewing treat!
On the Table
Cranberries only appear in my local grocery store for about 4 weeks in the lead up to Christmas, and I always try to grab a few bags for the freezer. We've blown through my stores already though, making these cranberry orange muffins on repeat all month. We reduce the sugar by about a third and skip the glaze, and I find that to be just the amount of sweetness I want at breakfast.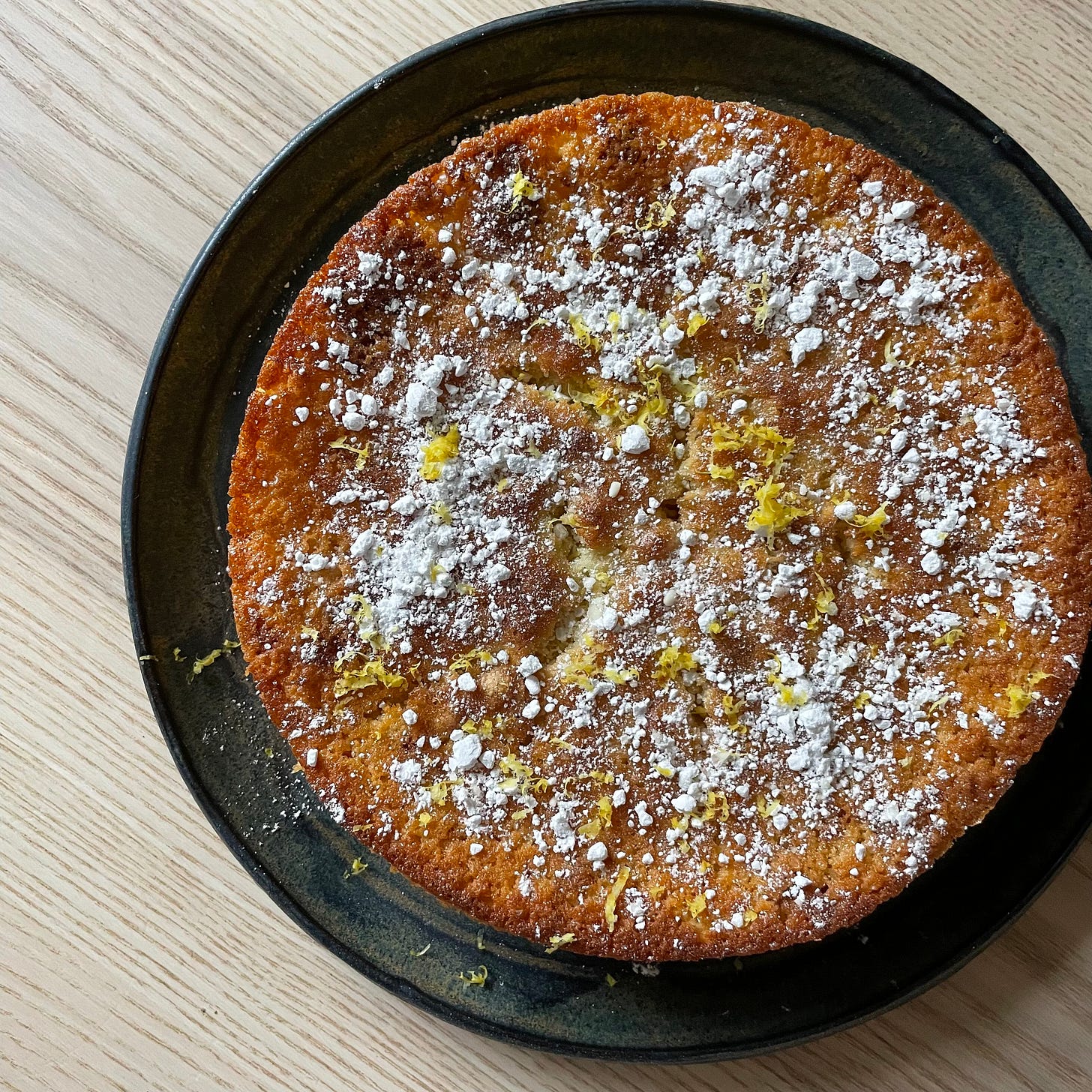 I also made this lemon olive oil cake with my daughter at the weekend. It was a fun one for toddler baking … she enjoyed all the stirring (and tasting the lemony batter; she's mostly in it for batter tasting, but aren't we all?) and we enjoyed having a homemade cake for the week the 48 hours it lasted.
On My Mind
In December, a lot of my crafting was outside my normal wheelhouse … crochet, hand sewing, (rudimentary!) embroidery, quilting … and it reminded me how insanely satisfying doing something new and different can be. My inner critic pipes down and is replaced by unbridled joy that the thing, whatever that thing may be, has turned out at all. I want to bring more of this trying new things/expanding my making repertoire energy into 2023, but I'm still trying to figure out how to make space for it. Most of my making happens in snatched snippets, when it's easier to grab something familiar rather than embark on something new. Maybe I need to do something rote, like designate one evening a week for Trying Something New time? If you've got ideas, I'd love to hear them ( you can simply reply to this email).
I've also been trying to decide what my next "Big" Cast On will be, as I usually like to have a sweater project on the go alongside one or two smaller knitting projects. I have some lovely yarn for a simple Anker's Summer Shirt … it would be nice to have it ready for spring (which feels far off now, but we saw our first snowdrops the other week, so it is on the way!) I've also got some squishy Gilliatt ready for a sweater for Nick, which will be a longer term project (I'm aiming to have it ready for him for next winter). Since my other two WIPs are quite simple, maybe having some cables to watch grow would be a nice counterpoint? Is that my decision made? We'll see.
In My Dreams
The funny thing about having a wee baby who needs lots of feeding is I spend a lot of time sitting, but with hands too full to knit or sew. It means I spend even more time than usual scrolling through Instagram, dreaming of things I'd like to make. Here are a few of the things that have really inspired me this month:
Last Bits of News
In case you missed it, earlier this month I shared plans on Instagram for #makesocksmendsocks2023. The idea is simple … I love handknit socks, wear them all the time, but don't make them very quickly, so I'm engaged in a constant war of attrition with my sock drawer. My goal is to make or mend a pair of socks each month, so that I end up with a net gain of a dozen pair of socks by year's end. I'd absolutely love some company, and you can tailor the goal to fit your feet's needs! If you decide to join and you're on Instagram, do share using the #makesocksmendsocks2023. If enough people join in, I'll organize some quarterly sock goodie prizes! And if you'd like to take part and aren't on Instagram, you can email me your sock pics at fiberandsustenance@gmail.com. (Speaking of, I must finish mending my January pair!)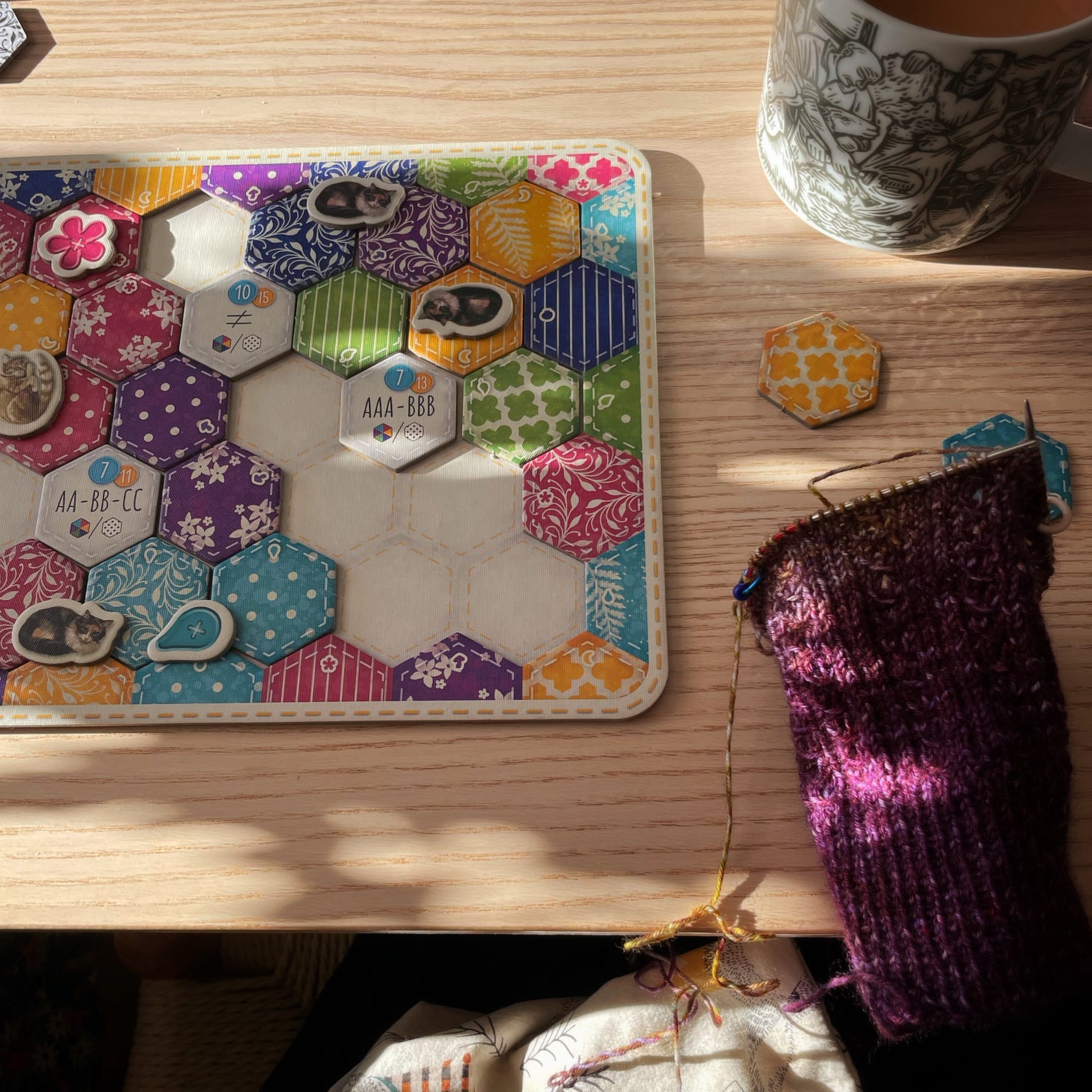 And, in important crafting-adjacent news, I can't sign off this newsletter without letting you know that we have a new crafty board game in our house, and it's amazing. It's called Calico, and the premise is you're making a quilt. You get points from fulfilling design challenges and making your quilt attractive to cats (YES YOU READ THAT RIGHT) and it is brilliant. It's for 1-4 players, and I can tell you it is one of those jewels of a game that says two people can play and is actually fun for two people to play. If you've played Patchwork (yes, we have two quilt-themed board games in our house), you don't need to worry, as we initially did, that Calico will be too similar. Calico is a more complex game, with more vectors to keep an eye on, so perfect for when you want something a bit longer to dive into (I'm sure if I was a keen quilter, I could think of a great analogy to go here … maybe one day).
And with those glad tidings, I'll leave you! Thanks again for joining me here. If you've enjoyed this newsletter and haven't already, perhaps you'd like to subscribe so next month's miscellany will come straight to your inbox? Or share with a friend who also enjoys crafty things! I'll be back next month with another ramble through my making life … see you then!
Katherine